If you need a pick-me-up, you can't miss this heartwarming story written by Dominique Mosbergen for The Huffington Post about a 99-year-old woman who makes a brand new dress for a child in need every single day!
Lillian Weber is a 99-year-old lady who makes a new dress (from scratch) for a child in need every day. Weber has made more than 840 dresses over the last few years. She says she wants to make 1000 dresses! She gives them to a Christian nonprofit organization called Little Dresses for Africa. Little Dresses for Africa gives the dresses to disadvantaged young girls in Africa and other poverty-stricken areas.
Every morning, Weber starts working on a new dress. She takes a break at noon, and then finishes the dress in the afternoon. Despite making so many dresses, Weber tries to make every dress special in its own way by personalizing it so that each little girl receives her own unique dress.
Before her 100th birthday last May 2015, Lillian Weber was able to finish the 1000th dress:
"I could probably make two a day, but I only make one."
"I have to be busy. It's just one of those things you learn how to do and enjoy."
Mrs. Weber's daughter, Linda shares that her mother peronalizes every single dress:
"It's not good enough that she makes the dresses; she has to put something on the front to make it look special, to give it her mark."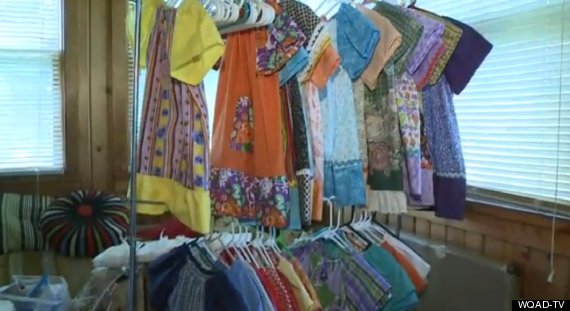 Once the milestone dress was complete, Mrs. Weber says she had a plan, which you could most likely guess:
"And as soon as I get this one done, I'll probably go to the next one."
"'It is just what I like to do."
Read More: This 99-Year-Old Woman Makes A New Dress Every Single Day For A Child In Need